Singapore and street-food go hand in hand, and at the heart of the food scene is the Balestier heritage district. Food courts, hawker centres, traditional markets, and century-old shophouses serving up a mouth-watering menu of food that exceeds expectations. Indian, Chinese, Malaysian, and Indonesian influences are combined with spices, flavours, and family-taught techniques to create dishes that are uniquely Singaporean and exceptionally delicious. Here's our list of must-try dishes to get the most out of the Singaporean zi char dining experience. Best of all, the New Ubin Seafood Zhongshan Park restaurant at the Ramada by Wyndham Singapore at Zhongshan Park hotel is one of the best places to try some of Singapore's most iconic dishes in restaurant comfort.
Chicken Rice 
Loy Kee Best Chicken Rice Singapore
There is perhaps no dish more Singaporean than chicken rice. Soft poached chicken coupled with seasoned rice might not sound that exciting, but local chefs have elevated these humble ingredients into an artform. If you want to try the ultimate version, then you can't go wrong at Loy Kee (342 Balestier Road) or Boon Tong Kee (401 Balestier Road). Loy Kee has a history of more than 70 years filling the bellies of happy customers with Hainanese style chicken rice, and Boon Tong Kee's sesame and soy chicken is hard to beat.  
Bak Kut Teh
Founders Bak Kut Teh/ FB @founderbakkutteh
A vibrant blend of herbs and spices forms the basis of the broth, which succulent pork ribs are cooked to perfection in. This is street food at its most hearty, and the fried youtiao for dipping adds to the indulgence. There is no shortage of great bak kut teh places to go to throughout the city, but one of the best is located along Balestier Road. Head to Founder Bak Kut Teh at 347 Balestier Road to experience the typical Teochew bak kut teh as authentically as it gets or Kai Juan Bak Kut Teh with a history of over 50 years.  
Kaya Toast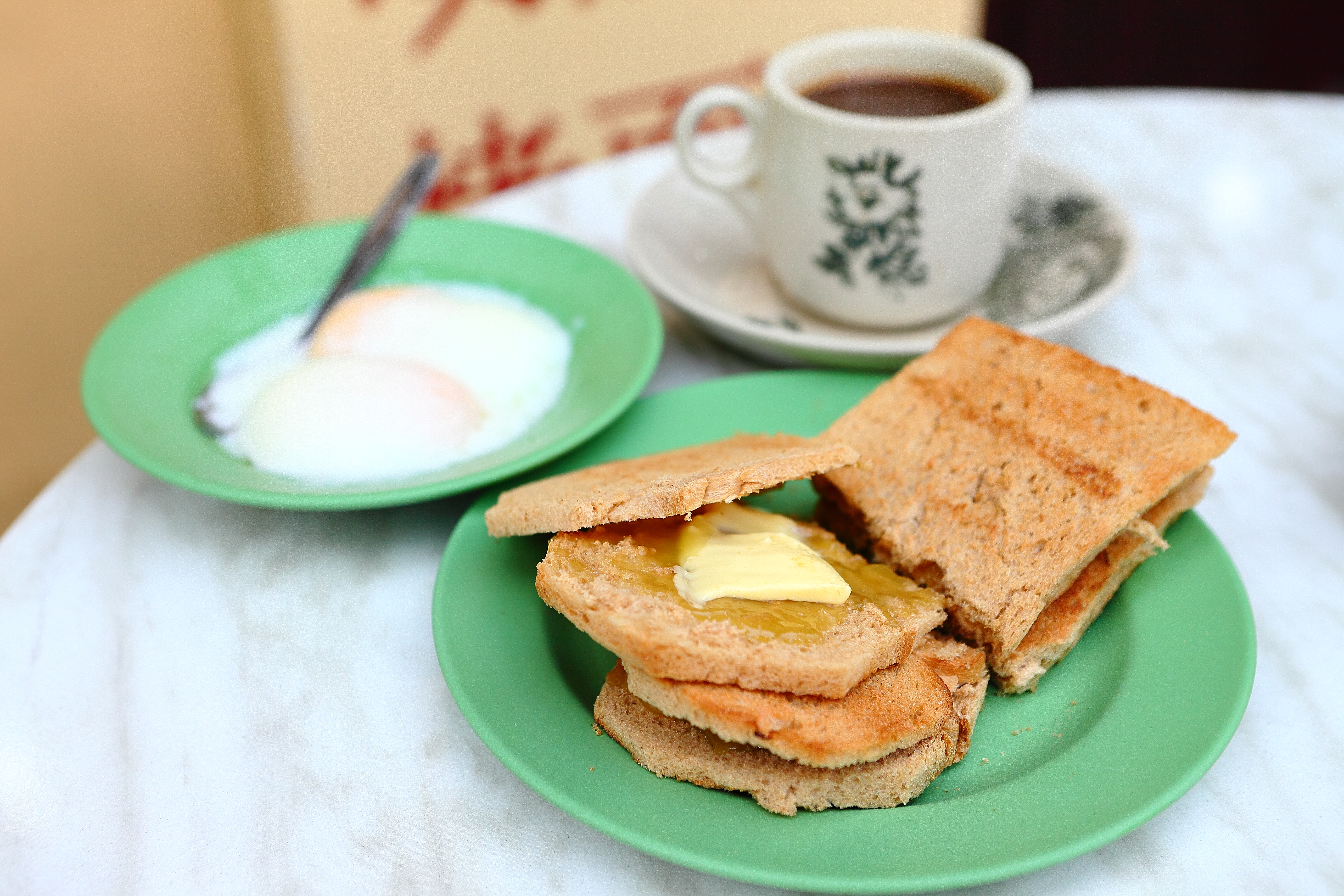 Kaya Toast Set / Singapore Tourism Board
For traditional Singaporean breakfast, kaya toast is a must. While the breakfast might sound simple, the flavours perfectly complement each other for the perfect balance of sweet and savoury. Eat yours like a local and order a cup of kopi, Singapore's variation of a traditional coffee paired with slices of toast with a rich spread of butter and coconut jam (kaya), and soft-boiled eggs on the side. 
New Ubin Seafood Zhongshan Park rendition of the kaya toast adds a French twist to it. The restaurant uses toasted baguette and French butter, serving it with homemade kaya jam that is delicious any time of day. You can get kaya toast all over the city, but the premium ingredients used at New Ubin Seafood Zhongshan Park really set it apart. Alternatively, you can head over to Toast Box at Zhongshan Mall, a contemporary coffee chain rooted in the recreation of Nanyang coffee and toast culture to get your hands on this treat.
Chilli Crabs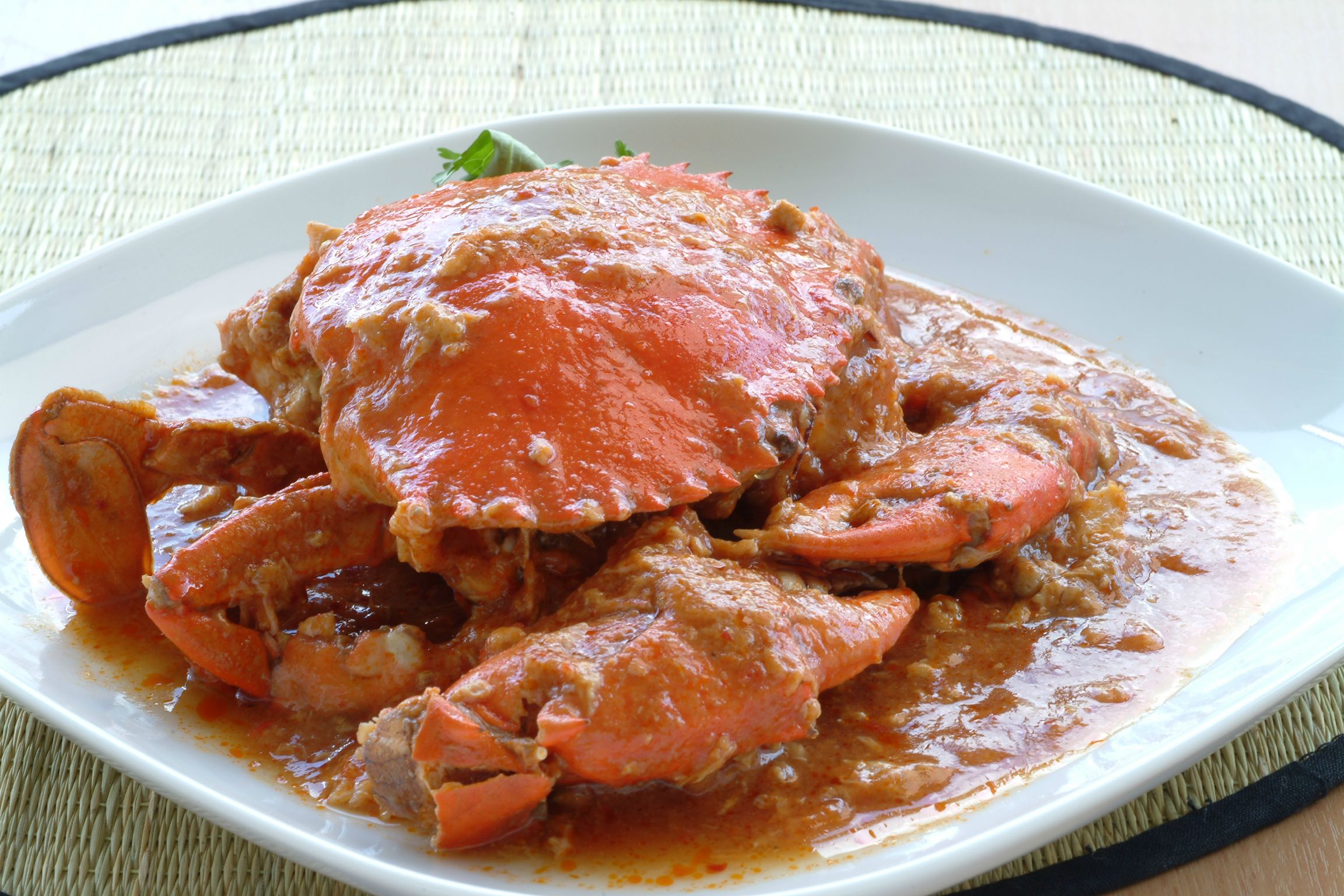 Chilli Crab / Singapore Tourism Board
One of Singapore's most famous dishes and a 'world's most delicious food' winner, chilli crab is not-to-be-missed during your stay. Mud crabs are stir-fried in a sauce rich with tomato and chilli to leave the crab meat mouth-wateringly tender and creamy. If you're not a lover of super-spicy dishes, don't worry, this is not as hot as the name would suggest. Instead, it's sweet and tangy with a kick of spice. Swap cutlery for your fingers and add a side order of mantou to get every last bit of delicious sauce off the plate. Unlike 'normal' mantou (Chinese steamed buns) these are deep-¬fried for even more flavour. 
If you looking for something different, check out New Ubin Seafood Zhongshan Park's Garlic Baked Crab that is out-of-this-world delicious. Alternatively, have it prepared in any of the favourite local styles, including salted egg and black pepper variations.
Oyster Omelette
Oyster Omelette / Straits Time, Hedy Khoo 
A Teochew speciality rich with umami flavours and available at almost every hawker centre you find yourself in, the oyster omelette, also known as Orh Luak, is a Singapore street-food favourite. This savoury dish uses eggs with sweet potato starch for a rich and crispy texture and is stuffed with juicy fresh oysters. Complete it with a special spicy chilli sauce with lime, and this dish will satisfy even the hungriest appetite
Fish Head Curry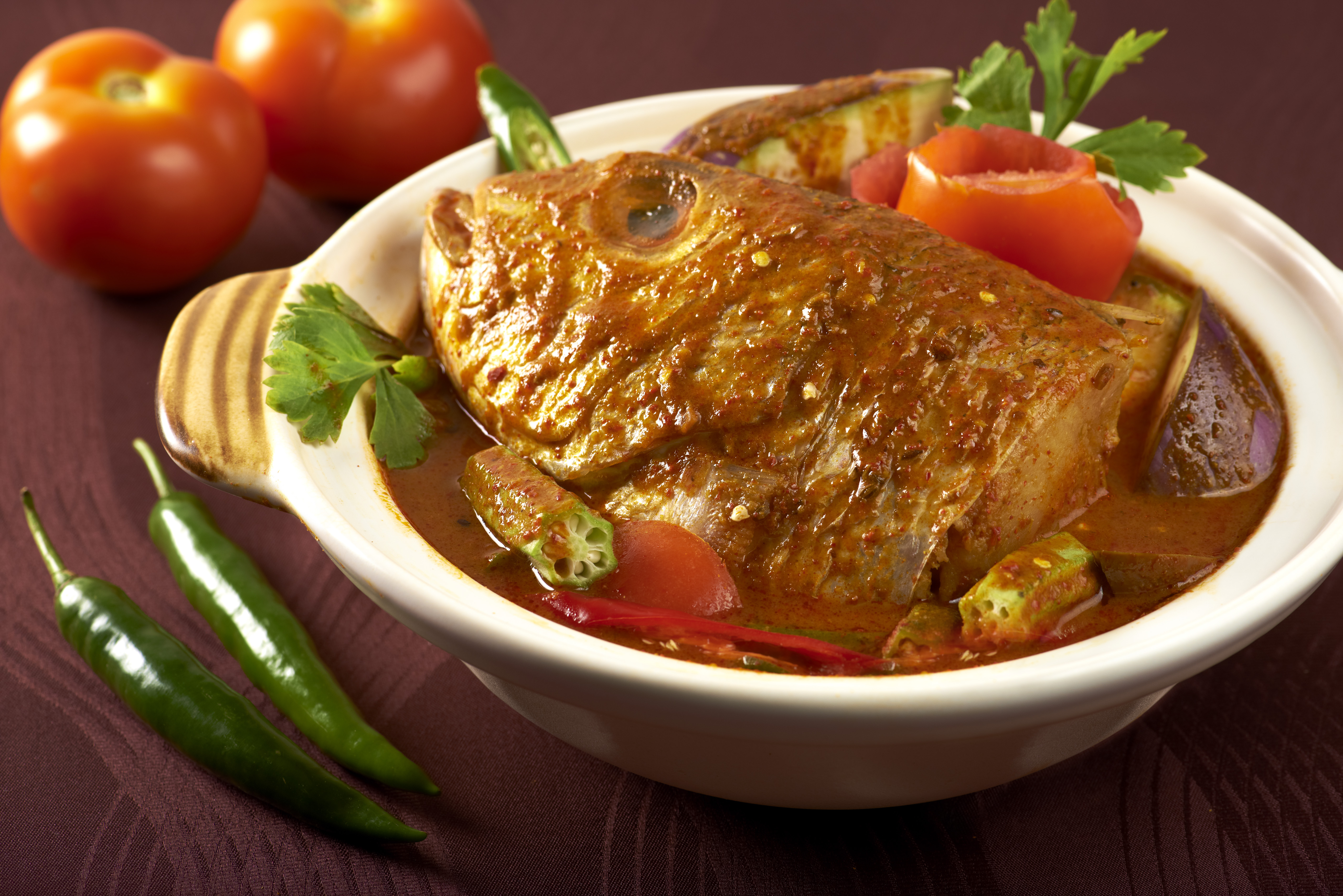 Fish Head Curry / Singapore Tourism Board
Fish head might not sound that appetising, but this is one of the most flavourful seafood dishes in Singapore. This soupy dish involves braising a fish head in a base of coconut milk and curry spices, along with distinctive seasonings and tamarind juices. It is a traditional Chinese-style fish head curry cooked with lady's finger (okra), eggplant and cabbage. This bold collection of flavours adds a unique blend of deliciousness. Trust us, if you enjoy spicy fish curries, you'll spoon up every last mouthful of this one.
Try yours at New Ubin Seafood Zhongshan park, an all-time favourite dish at the restaurant! Find out more about the restaurant's signature dishes here. 
Laksa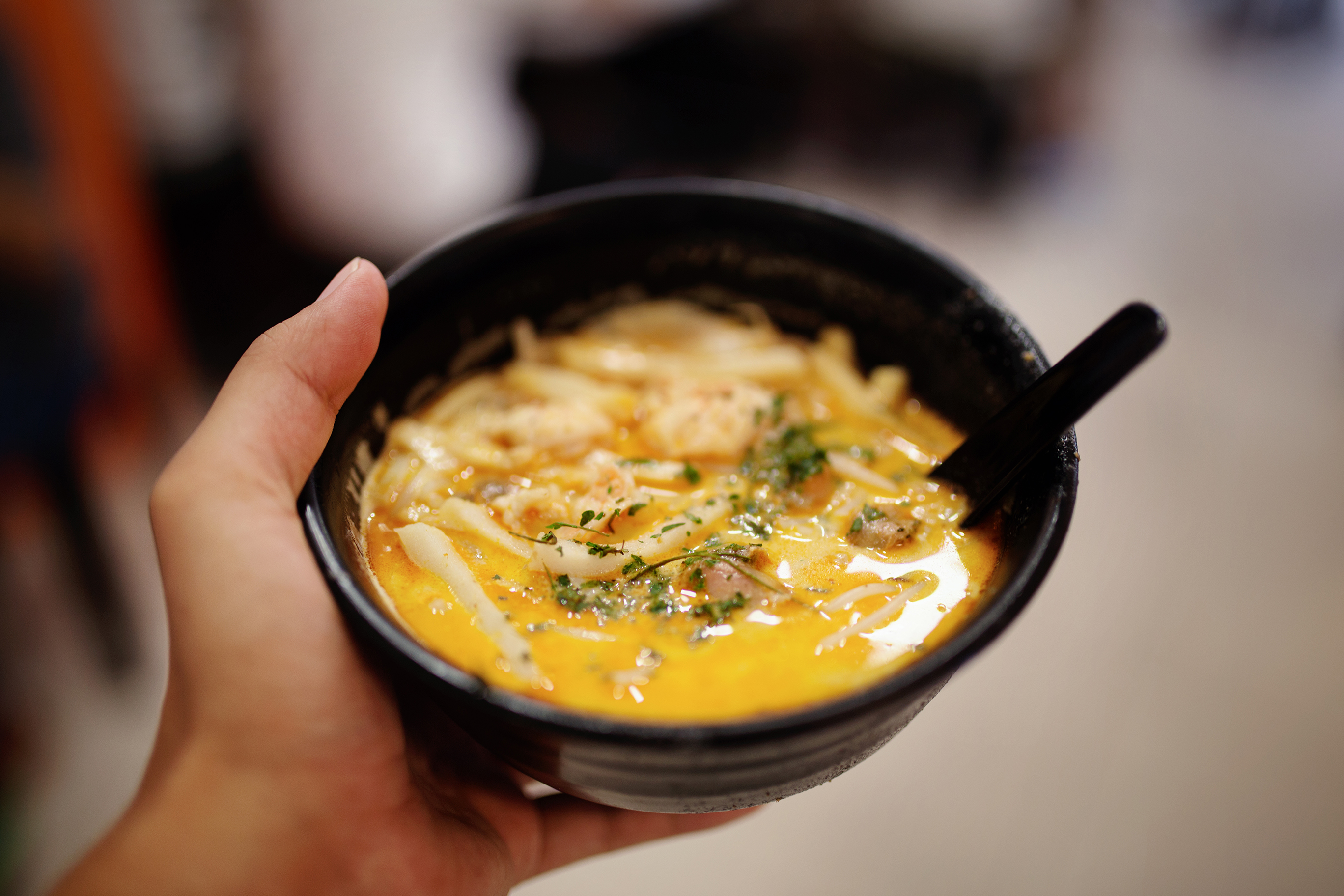 Katong Laksa/ Singapore Tourism Board 
You can find several variations of laksa, a spicy coconut milk-based noodle soup popular in the Peranakan and Malay cuisine of Southeast Asia. However, nothing beats the home-grown Katong Laksa, which even won Chef Gordon Ramsay's seal of approval. Flavoured with dried shrimp and coconut milk this spicy noodle soup has a seafood base and is served with a medley of seafood with chopped noodles for easy spoon slurping. 
One of our favourites is  at 328 Katong Laksa which has outlets throughout the city, but you'll find one at 101 Thomson Road (Novena, United Square Shopping Centre), a short bus ride away from the hotel. 
Char Kway Teow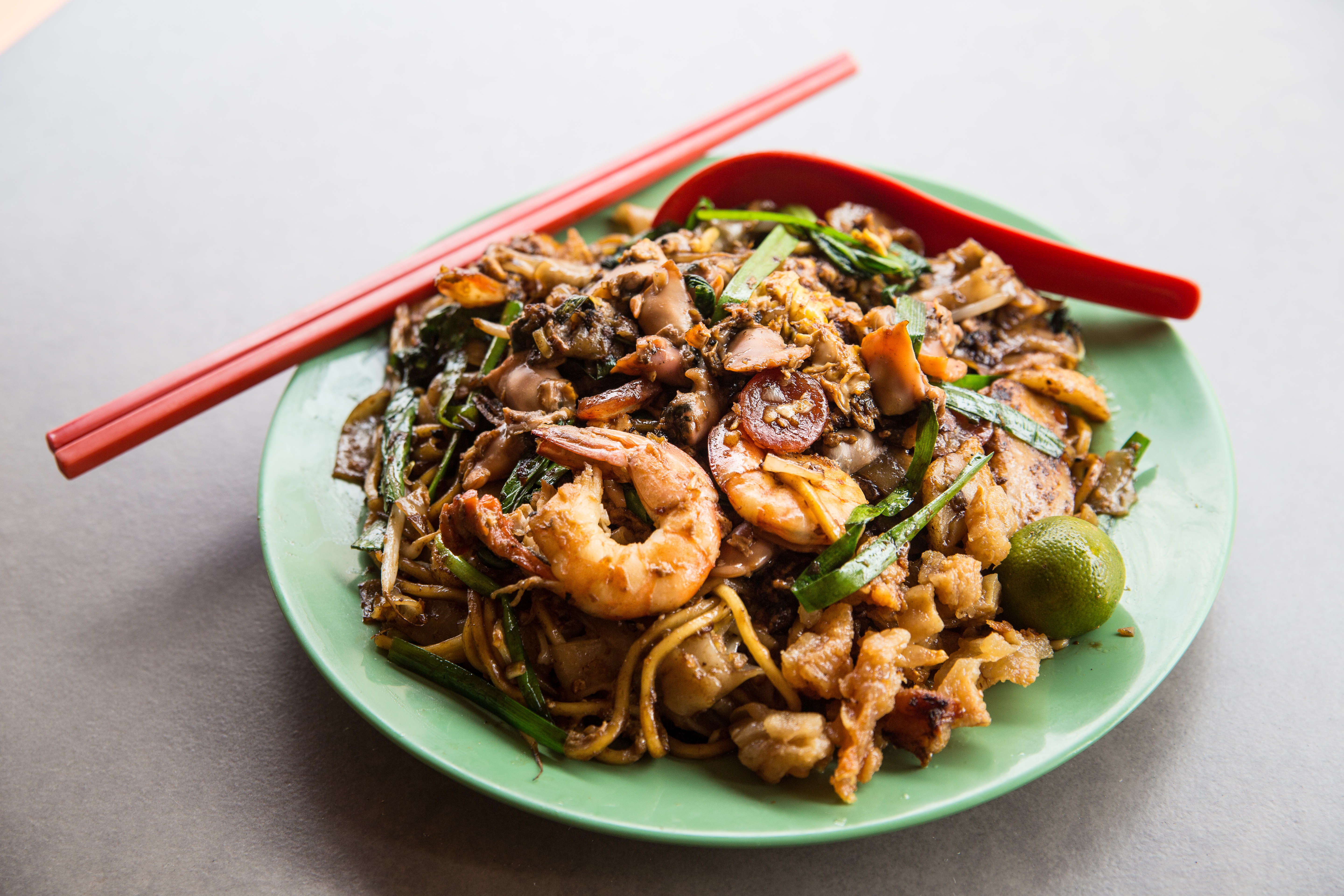 Fried Kway Teow/ Singapore Tourism Board 
A staple of the Singapore street-food scene, char kway teow is one of those 'everyone has their own favourite place' dishes. This indulgent wok-fried noodle dish uses a mix of flat rice noodles and yellow wheat noodles, stir-fried over high heat with soy sauce and lard among other delights like lup cheong (Chinese waxed sausage), fresh prawns and blood cockles. Sinful, yet satisfying, you'll struggle to find one that isn't delicious wherever you choose to eat it.
If you are feeling adventurous, one of our favourites is Outram Park Fried Kway Teow Mee at 531A Upper Cross St. So good it even got mentioned in the Michelin Bib Gourmand guide. Otherwise, you can easily find this dish at Balestier Market or Whampoa Makan Place, located a short walk away from the hotel. 
Durian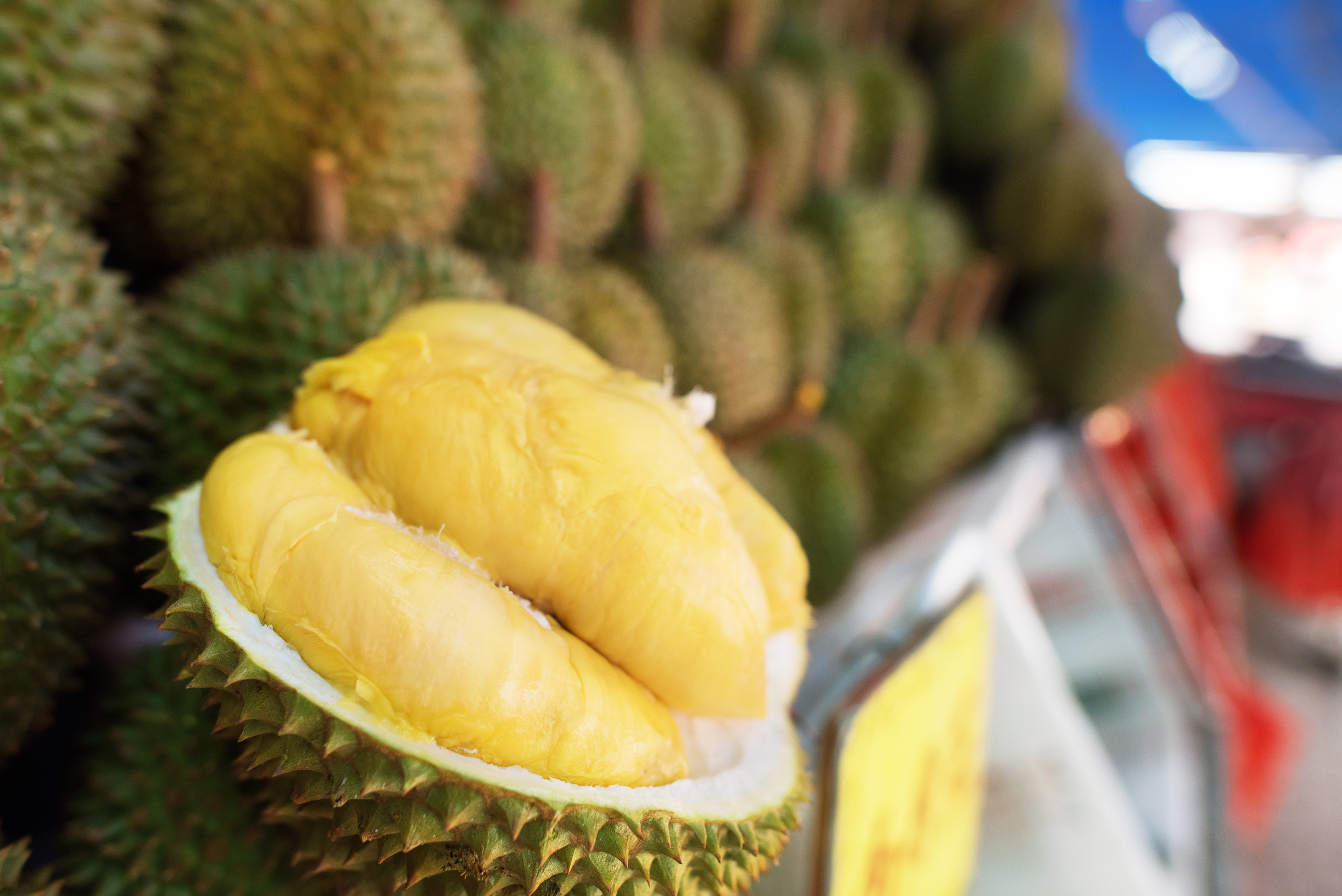 Durian / Singapore Tourism Board 
If you've ever been to Southeast Asia, chances are you've come across durian, the king of fruits. The fruit is almost as big as watermelon but with an outer layer covered in scary-looking spikes. The spikes are, however, not what makes durian so divisive, but the smell. Earning the title 'world's smelliest fruit' durian is as loved as it is hated. But, don't judge this fruit by its smell, because it is both full of health benefits and has a flavour that is sweet, citrusy and creamy (depending on its ripeness). 
If you're a fan, then make sure you order some durian pengat during your stay in Singapore. At New Ubin Seafood Zhongshan Park, you can order this rich, creamy and warmed Malay inspired dish with a side of coconut for the perfect sweet end to a meal. For the full durian experience, head over to Combat Durian, one of the oldest and most popular durian stands in Singapore and enjoy it fresh off the husk. 
Satay
Satay / New Ubin Seafood
Everyone knows satay, but we believe that Singapore does this dish best of all. Simple bamboo skewers of tender meat are chargrilled to perfection and served with a delicious peanut sauce. One of the most common dishes offered by Singapore's famous hawkers, satay skewers are often served with cucumber and a rice cake 'ketupat' packed inside a woven palm leaf. 
Order a choice of chicken, pork or mutton at New Ubin Seafood Zhongshan Park and enjoy this easy-eating favourite or take a short walk to Whampoa Makan Place to get your hands on these perfectly grilled skewers at Satay Guan.
Do keep a lookout for our next article as we uncover more of Singapore's food culture, bringing you other must-eat dishes you cannot miss!