We all know travel can be expensive, from getting there to eating out, but with our Singapore savings guide, we'll show you some of the top free Singapore activities and attractions so that you can see more and spend less.
Bargain Botanical at The Singapore Botanic Gardens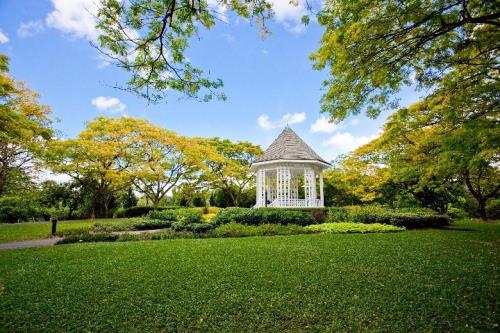 Singapore Botanic Gardens / National Parks Board
Located just off Orchard Road, Singapore's most famous historical gardens are one of our favourite free activities. A UNESCO World Heritage Site, the gardens are home to more than 10,000 species of flora, not to mention some exotic fauna. From the Ginger Garden to the Children's Garden, the Orchid House to the Bonsai Garden, there is much to explore in these tropical gardens. The garden is free to enter, but some areas like the Orchid House are well worth spending a little on to gain access to. With more than 1,000 orchid species and a collection of carnivorous plants, this is a fascinating botanical experience to remember.
Opening Hours: Daily, 5am – 12am (Check the site for specific garden opening times)
Address: 1 Cluny Rd, Singapore 259569
Website: https://www.nparks.gov.sg/sbg
Sunshine on Sentosa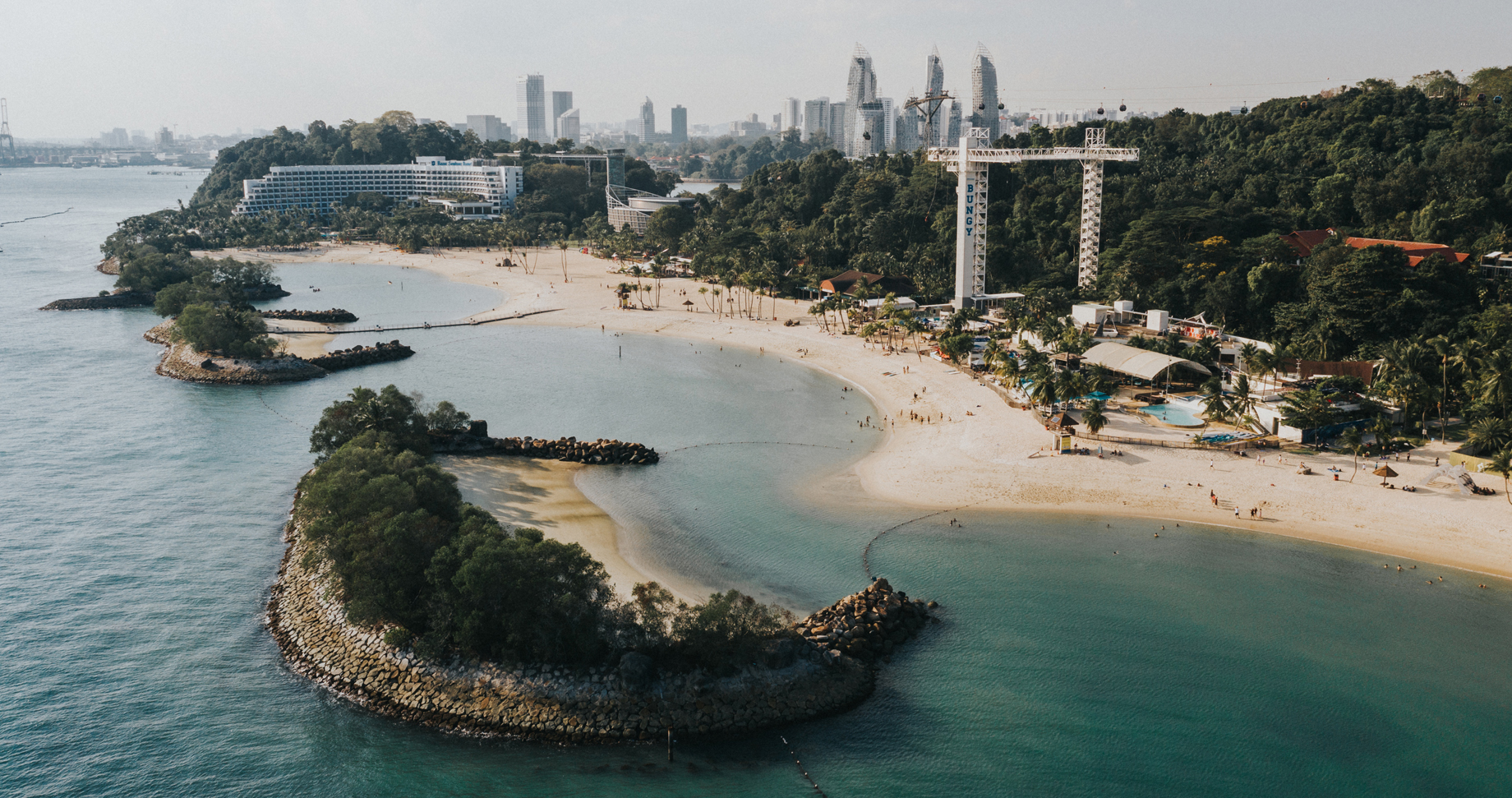 Sentosa Beach, Palawan Beach, Siloso Beach / Sentosa Development Corporation
Sentosa's three beaches are among the best free family attractions in Singapore. You can even save on the express bus fare by taking a walk across the Sentosa Boardwalk from VivoCity Mall. While Siloso and Tanjong are both beautiful, our favourite is Palawan. With swaying palm trees, soft sand and turquoise lagoons for swimming in, it is a little piece of paradise in Singapore. If you're planning a weekend visit, the new booking system (see link below) ensures the beaches never get too crowded. And, if you're feeling extra energetic you can even book one of their volleyball or beach sports courts for some fun in the sun actions.
Opening Hours: Monday to Friday, 7am – 10pm | Saturday & Sunday, 8am- 7pm
Address: Sentosa Island
Website: https://www.sentosa.com.sg
Dive into History at The Sun Yat Sen Nanyang Memorial Hall

Sun Yat Sen Nanyang Memorial Hall / Singapore Tourism Board
Dr. Sun's involvement in the 1911 Revolution is an important part of the history of Singapore, and there's nowhere better to learn all about him, his revolutionary activities and his impact on Singapore and the Chinese community than this Gazetted National Monument. Not only is admission free for locals, but you can also enjoy a free guided tour of the hall's permanent galleries and special exhibitions.
Opening Hours: Tuesday to Sunday, 10am – 5pm
Address: 12 Tai Gin Rd, Singapore 327874
Website: https://www.sysnmh.org.sg
Out of This World Gardens By The Bay
Gardens by the Bay / Singapore Tourism Board
Not only is Gardens By The Bay one of Singapore's most famous landmarks, but you get to explore them for free. Wander amongst the Supertree Grove and experience unique vertical gardens that look more like props from the alien world of Avatar than unique garden habitats. Entrance to the Flower Dome and some other areas in Gardens by the Bay has an admission charge, but you can explore the grounds for free every day of the week.
Opening Hours vary from various attractions within the Gardens
Address: 18 Marina Gardens Dr, Singapore 018953
Website: https://www.gardensbythebay.com
Walk across the Treetops at MacRitchie Reservoir Park

MacRitchie Nature Trail & Reservoir Park / Singapore Tourism Board
Take the 4.5km walk from MacRitchie Reservoir Park (or the easier 2.5km walk from Venus Drive car park) to the MacRitchie Treetop Walk. Walk right into the tree canopy as you cross between the park's two highest points. Not for the faint of heart or those averse to heights, this freestanding 250m suspension bridge allows you to walk 25m above the forest floor.
Opening Hours: Daily, 7am – 7pm (currently closed for maintenance)
Address: MacRitchie Reservoir Park, Singapore 298717
Website: https://www.nparks.gov.sg/gardens-parks-and-nature/parks-and-nature-reserves/central-catchment-nature-reserve/treetop-walk
Hilltop History at Fort Canning Park

Fort Canning Park / National Parks Board
Witnessing many of Singapore's most pivotal historic events, the hill's history goes way back to the 14th century and is a fascinating combination of family-friendly gardens and historical landmarks. The park spreads between nine historical gardens, each with a different style and collection of plant life and architecture for you to relax and explore between.
Opening Hours: Daily, 7am – 7pm
Address: Bounded by Hill Street, Canning Rise, Clemenceau Avenue and River Valley Road, Singapore 179618
Website: https://www.nparks.gov.sg/gardens-parks-and-nature/parks-and-nature-reserves/fort-canning-park
Enriching Arts for Free in The Parkview Museum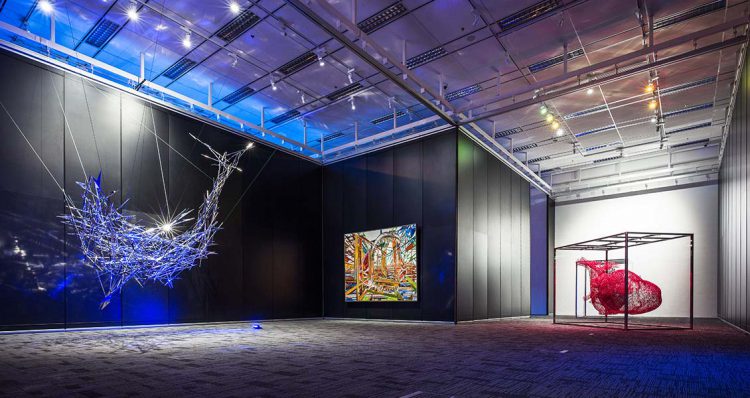 Parkview Museum 
Spread over 1500m2, this free-to-enter art museum focuses on contemporary artwork in a beautiful art-deco building. Local artists are celebrated alongside international artworks by some well-known and some lesser-known artists that are well worth discovering.
Opening Hours: Temporarily Closed
Address: 600 North Bridge Rd, Level 3 Parkview Square, Singapore 188778
Website: https://www.parkviewmuseum.com
Little India Is Big on Flavour & History

Little India / Singapore Tourism Board
Colourful shops, delicious street food, fascinating markets and beautiful temples make Little India one of the most vibrant and exciting districts in Singapore. It's quite different from the orderly Singapore you might be used to, but that just adds to the charm. Tekka Centre is the place to go for a selection of great food, Mustafa Centre for a mind-boggling array of goods and Serangoon Road to explore the heart and history of Little India.
Address: 60 Bukit Timah Road, Singapore 229900 (Little India MRT)
Website: https://www.visitsingapore.com/see-do-singapore/places-to-see/little-india
Cuisine and Culture in Chinatown

Chinatown / Singapore Tourism Board
From the delicious Hainanese chicken rice to the trendy wine bars on Club Street, Chinatown is a rich mix of tasty food, historic buildings, landmarks, shopping and culture. Each of the districts within Chinatown has something to offer. Ann Siang Hill is quiet, upmarket and calm, while Keong Saik and Kreta Ayer are full of conserved shophouses, the once sleepy fishing village Tanjong Pagar is now a busy centre of business, while Telok Ayer is great for cafés and drinking spots.
Discover how art comes alive in this district as you find multiple Instagrammable places with gorgeous murals, depicting Singapore's past and present.
Address: 2 Banda Street, Singapore 059962 (Chinatown Visitor Centre)
Website: https://chinatown.sg
Explore Kampong Glam

Kampong Glam / Singapore Tourism Board
The Muslim connection is clear in Kampong Glam with the beautiful Sultan Mosque standing proud in its centre. But beyond the Middle Eastern restaurants, the historic shophouses, and the fabric shops, the area has some of the best vintage boutiques and cool cocktail bars. Not to be missed in Kampong Glam is Haji Lane, Singapore's original indie neighbourhood. You'll need to navigate your way between all the Instagram picture hunters, but this colourful street is famous for its amazing wall art and café culture. If you're looking for a different side of Singapore, Haji Lane and Kampong Glam is the place to be.
Address: 3 Muscat Street, Singapore 198833 (Sultan Mosque)
Website: https://visitkamponggelam.com.sg
Feed your shopping addiction (or not) at Orchard Road

Orchard Road / Singapore Tourism Board
Every shopper's paradise, be prepared to find a trove of rare finds among one of the many iconic malls along Orchard Road. From luxury labels to discounted finds, unique souvenirs to the latest fashion trends, Singapore's famed shopping belt is unrivalled in its breadth and diversity. Explore, eat and dine to your heart's content as you get the most out of the city in Orchard Road.
Website: https://www.orchardroad.org/
Walk with Dinosaurs at Changi Jurassic Mile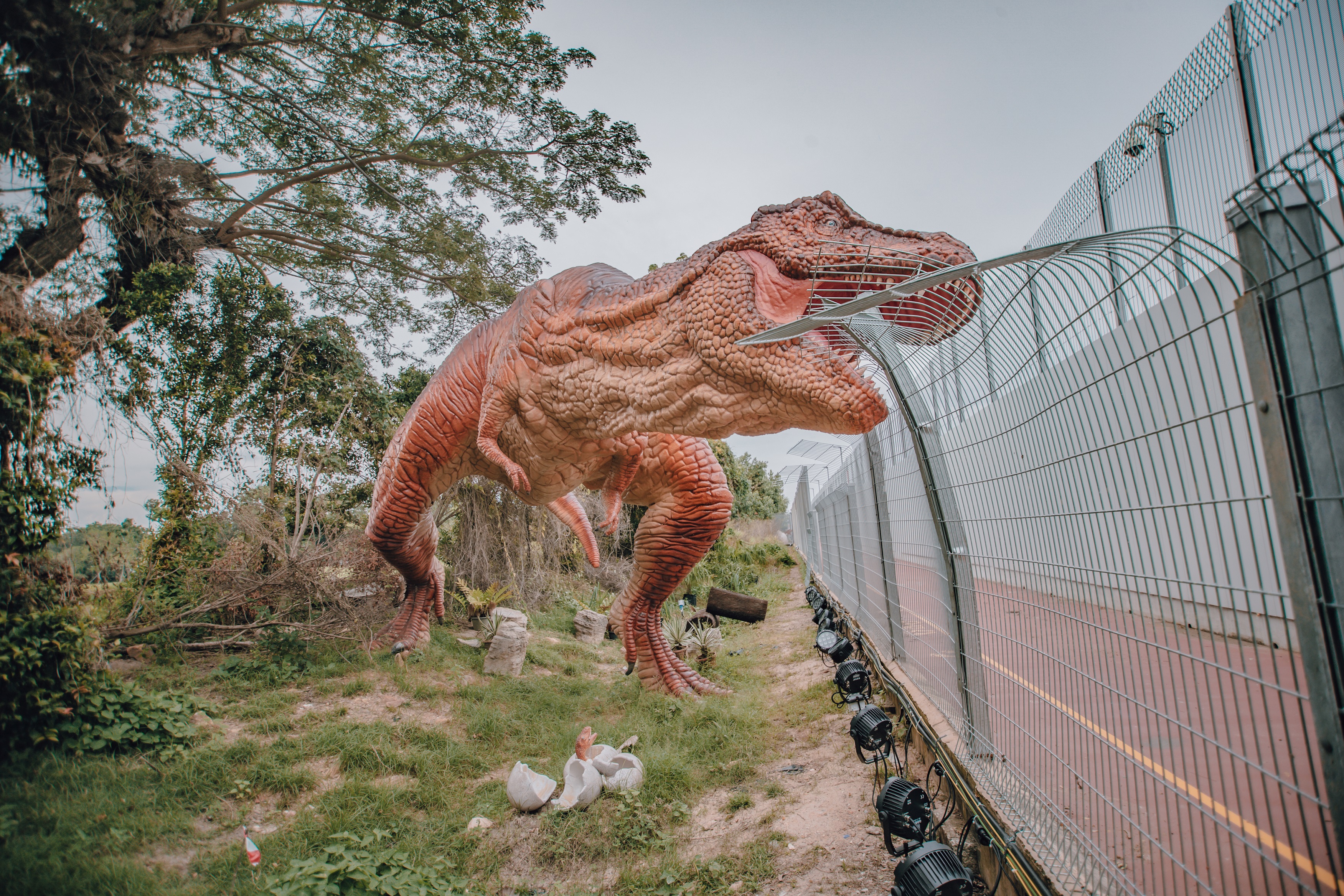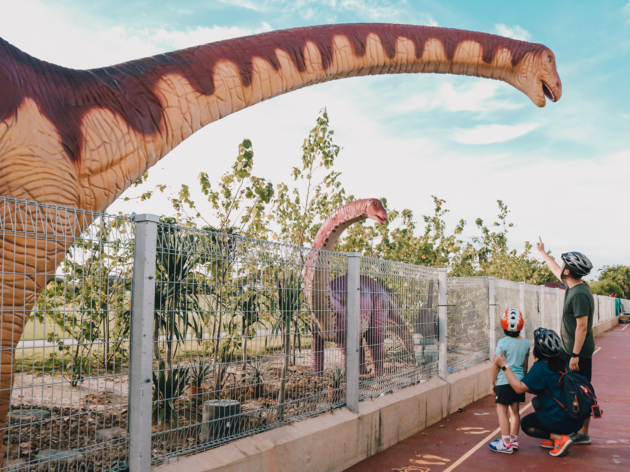 Jurassic Mile / Changi Airport Group, Facebook @changiairport
Featuring the city's first life-sized display of dinosaurs, the Changi Airport Connector now houses more than 20 different pre-historic creatures. Explore the Age of Dinosaurs and learn about the different species, from slow, plant-eating giants like the Diplodocus to fierce scavengers and hunters like the Tyrannosaurus. The tallest dinosaur stands at almost 5 meters high!
Address: 10 Airport Blvd., Singapore 819665 (Jurassic Mile is located beside Changi Airport Terminal 4)
Website: https://www.changiairport.com/en/discover/changi-airport-connector/jurassic-mile