When it comes to breakfast, we take it seriously here. There's no excuse to skip the most important meal of the day when there are so many available options around the vicinity. Start your days off right with the breakfast of your choice that will keep you going all day long. Whether you are an early riser or a late sleeper, here is a list of some breakfast places that have our seal of approval.
For the early risers. These popular breakfast spots will make you glad that you woke up in time for it!
1. Ramada Singapore
Start your morning right with a breakfast fit for royalty. From scrumptious Asian delights to a hearty Western fare, wake up to the aroma of freshly brewed coffee, scrambled egg and warm-from-the-oven pastries. There is no better way to start the day than with a morning feast.
Alternatively, why not opt for a lazy breakfast in bed for the ultimate indulgence? Have your breakfast brought to your room, at the time you desire with our in-room dining.
* At the moment, the hotel's breakfast buffet service is replaced with an a la carte breakfast set.
Check out our Room with Breakfast Package from $190++ and wake up to a decadent breakfast during your stay with us.
Whampoa Makan Place / Straits Time Photo: Hedy Khoo
2. Whampoa Food Market 
If you are in for some delicious local breakfast, the Whampoa Market is definitely a spot not to be missed! Located a stone throw away from the hotel (Whampoa Drive Blk 91), the food centre is a melting pot of delicious flavours, offering a host of local delights under one roof.
Enjoy breakfast the local way as you tuck into breakfast favourites like Carrot Cake (Chye Dao Kueh), Prawn Noodles, Kway Tiao Mee, Lor Mee (Braised Noodles), Lontong and Mee Soto, paired perfectly with a cup of Kopi-o (coffee). It's nothing like your fancy Eggs Benedict or pancakes, but with that many choices available, it's sure enough to satisfy any fussy palate. This food market is the perfect start to the day's adventures, especially if you are looking to check out the Balestier Heritage Trail after!
91 Whampoa Dr, Singapore 320091
Loong Fatt Eating House & Confectionery  / Photo: Sun Yet Sen Nanyang Memorial Hall
3. Loong Fatt Tau Sar Piah
Enjoy a leisurely morning as you sink your teeth into a freshly baked Tau Sar Piah and sip on a cup of hot Kopi (Coffee) or Teh (Tea). This famed traditional Teochew bean paste pastry is buttery and flaky, with a salty and sweet option. It is delicious as a breakfast or a snack, which will leave you coming back for more. With up to 4,000 pieces prepared by hand daily and a history that dates back to 1948, this breakfast spot is definitely a local's favourite that is worth queueing up for!
Are you more of a sweet or savoury person? Other popular items at the eatery include the old-fashioned Butter Cake, Coffee Walnut Cake and an assortment of Swiss Rolls.
639 Balestier Rd, Singapore 329922, Monday to Saturday, 8 am – 4.30 pm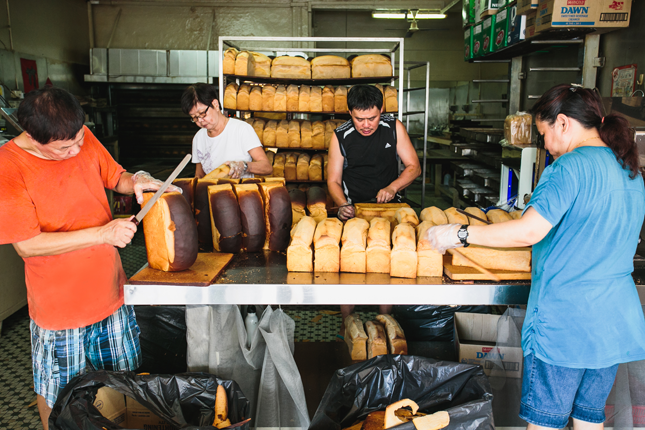 Sing Hon Loong Bakery  / Photo: Roots.sg
4. Sweetlands Bread & Bakery / Sing Hon Loong Bakery
Long before the days of croissants and doughnuts were slices of white bread spread with a generous serving of kaya and/or butter, the basis of a classic Singaporean breakfast. Indulge in a slice of nostalgia with old-school bakeries like Sweetland's Bread & Bakery and Sing Hon Loong Bakery, located a stone's throw away from the hotel. They are one of the few bakeries left in Singapore with a history of over 50 years, using traditional methods and machinery to bake their bread, where burnt crusts are manually sliced off from freshly baked loaves of bread to reveal a light and fluffy interior.
The shops offer an assortment of bread and buns too, with old-fashioned flavours like red bean paste, kaya, coconut, peanut, butter and more! Do get there early to avoid disappointment as we hear that popular flavours are often sold out by the early afternoon.
Sweetlands Bread & Bakery: 10 Kim Keat Ln, Singapore 328867 | Sing Hon Loong Bakery4 Whampoa Dr, Singapore 327715, Operating Hours: 24 Hours
For the night owls. Those who prefer a lazy morning, check out these brunch spots for a treat!
Wheeler's Yard Cafe  / Photo: Wheeler's Yard
1. Wheeler's Yard
For those who love to sleep in a little later, enjoy a lazy brunch at Wheeler's Yard, a bicycle-themed cafe located right along the Whampoa park connector. Dig into your favourite egg dish, cooked to perfection. From poached eggs that ooze out like volcano lava to runny scrambled eggs that even Gordon Ramsay would approve of, this cafe is a must-visit spot for many brunch lovers. The cafe is also known for its Instagram-worthy door and industrial-looking interiors with vintage ornaments.
28 Lor Ampas, Singapore 328781, Tuesday to Sunday, 11 am – 8 pm (Brunch is available till 3 pm)
Artisan Boulangerie Co. at 312 Balestier / Photo: Artisan Boulangerie Co.
2. Artisan Boulangerie Co.
For the extreme night owls or simply the avid fans of breakfast food, indulge in all-day breakfast with Artisan Boulangerie Co. Whether it's for breakfast, lunch or even dinner, the contemporary cafe located just a short walk away from the hotel serves up an assortment of eggs on toast; pancakes drenched in maple syrup and artisanal coffee for your daily caffeine fix. Other items on the menu include salad and grain bowls, pasta and more.
312 Balestier Rd, #01-01, Singapore 329743, 9.30 am – 10 pm
3. Zhongshan Mall
Too lazy to travel? Enjoy a myriad of dining options at the adjacent Zhongshan Mall with familiar brands like McDonald's, Subway, Starbucks and more. Other homegrown brands include Stackz, a quaint cafe serving up flapjacks and savoury crepes among other menu items, and Toast Box, a contemporary coffee chain prominent for its Singapore Style breakfast, offering Nanyang coffee paired with soft-boiled eggs and kaya toast.