Balestier Road in central Singapore might be best known for its chicken rice and Bak Kut Teh, but the area's rich heritage makes it so much more than just a street-food heaven. Over the last two hundred years, Balestier has transformed from sugar cane fields and farmland to a road filled with architectural shophouses, lighting emporiums and traditional dishes. We've chosen some of our favourite spots on the Balestier Heritage Trail with a focus on architectural and foodie highlights to share with you!
What to See and Do on Balestier Road
Sun Yat Sen Nanyang Memorial Hall / visitsingapore.com
The perfect starting point on your Balestier journey (especially for guests at Ramada by Wyndham Singapore at Zhongshan Park as it is just a few minutes walk away). Known to many as the 'Father of the Nation', Sun Yat Sen was a key player in the overthrow of the Qing dynasty and the beginning of the Republic of China. It's right here that many of the pivotal revolutionary activities had their start. This colonial-style villa captures some of the political history of the Singapore Chinese, spread over its two storeys. Hotel guests can visit the museum for free simply by showing your room key card at the reception.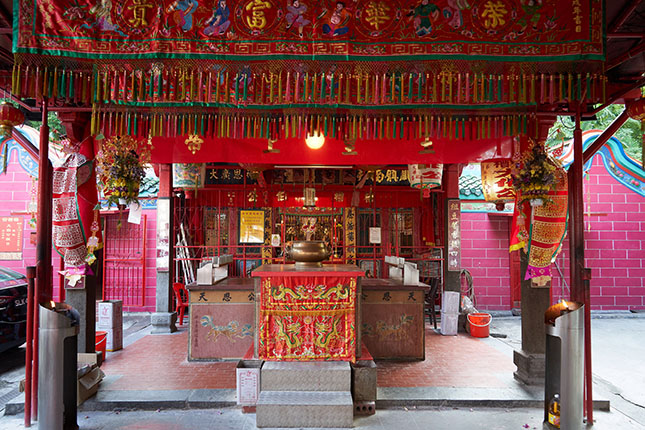 Goh Chor Tua Pek Kong Temple / roots.gov.sg
An ornate, but modest temple with a history that goes back to 1847, Goh Chor Tua Pek Kong Temple is one of the earliest links with the area's sugar cane farming history. The temple also features a space for Chinese opera and stages performances during important festivals.
Burmese Buddhist Temple / bbt.org.sg
The only Burmese Buddhist temple of its kind in Singapore with a history of over 100 years, the Maha Sasanaramsi Burmese Buddhist Temple houses the largest known white marble Buddha statue outside Myanmar. It is also the only temple built in traditional Burmese architectural style outside Myanmar, with a tiered roof featuring intricate cravings made from Burmese teak and other cultural and religious artefacts on display.
Sim Kwong Ho Shophouses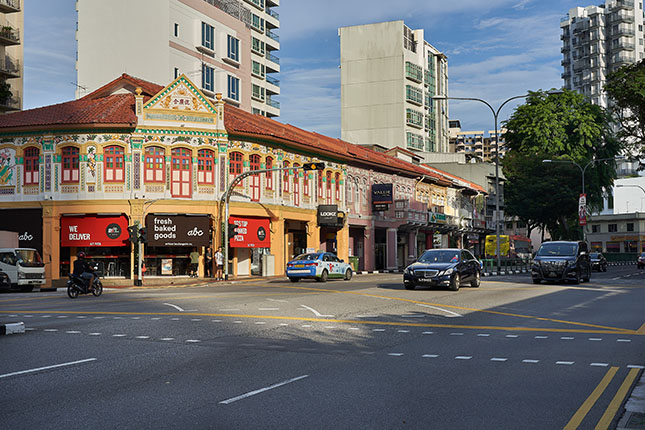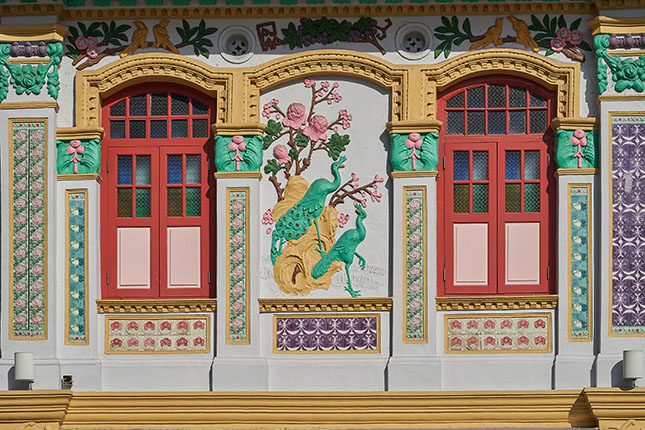 Sim Kwong Ho Shophouses / roots.gov.sg
This row of shophouses was built to show off the wealth of the 1930's rubber boom. Architects were hired to merge the traditional Chinese styles with Western design, and a new style was born; Chinese Baroque (or Singapore Eclectic). Details include elegant glazed floral tiles and floral stone wreaths alongside carvings of animals chosen to bring good fortune to the shopkeepers.
Traditional Shophouses
Traditional Shophouses / by Rebecca Wurd (travelblog.expedia)
Restored to their 1920s glory in the year 2000, this collection of traditional shophouses is still home to some of the road's earliest stores. They reflect several architectural styles yet holds a distinct feature – a five-foot way, offering pedestrians shelter from the sun and rain, a requirement introduced by Sir Thomas Stamford Raffles in his Town Plan of 1822. At 414 you'll find The Original Herbal Shop, where the famed 24 Flavours tea and other herbal teas recipes are mixed up and administered to relieve all sorts of maladies. Other surviving shops include Lim Kay Khee Optical and Contact Lens Centre and Lam Yeo Coffee Powder Factory.

Optional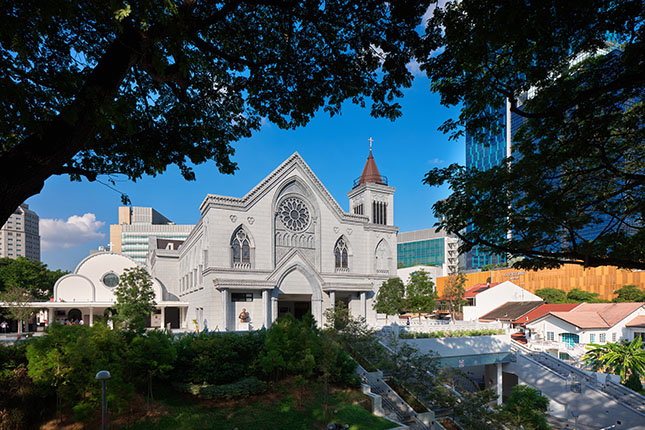 Novena Church / roots.gov.sg, The Straits Time, Alphonsus Chern
The Church of St Alphonsus, often referred to as the Novena Church, was one of the first churches to be built in Singapore after the Second World War. The original church building, which was conserved in 2011, reflects a tropical eclecticism, featuring a distinctive neo-classical frontage with three arches and a central stained glass window. To this day, the church attracts as many as 20,000 people each weekend.
What to Eat and Drink on Balestier Road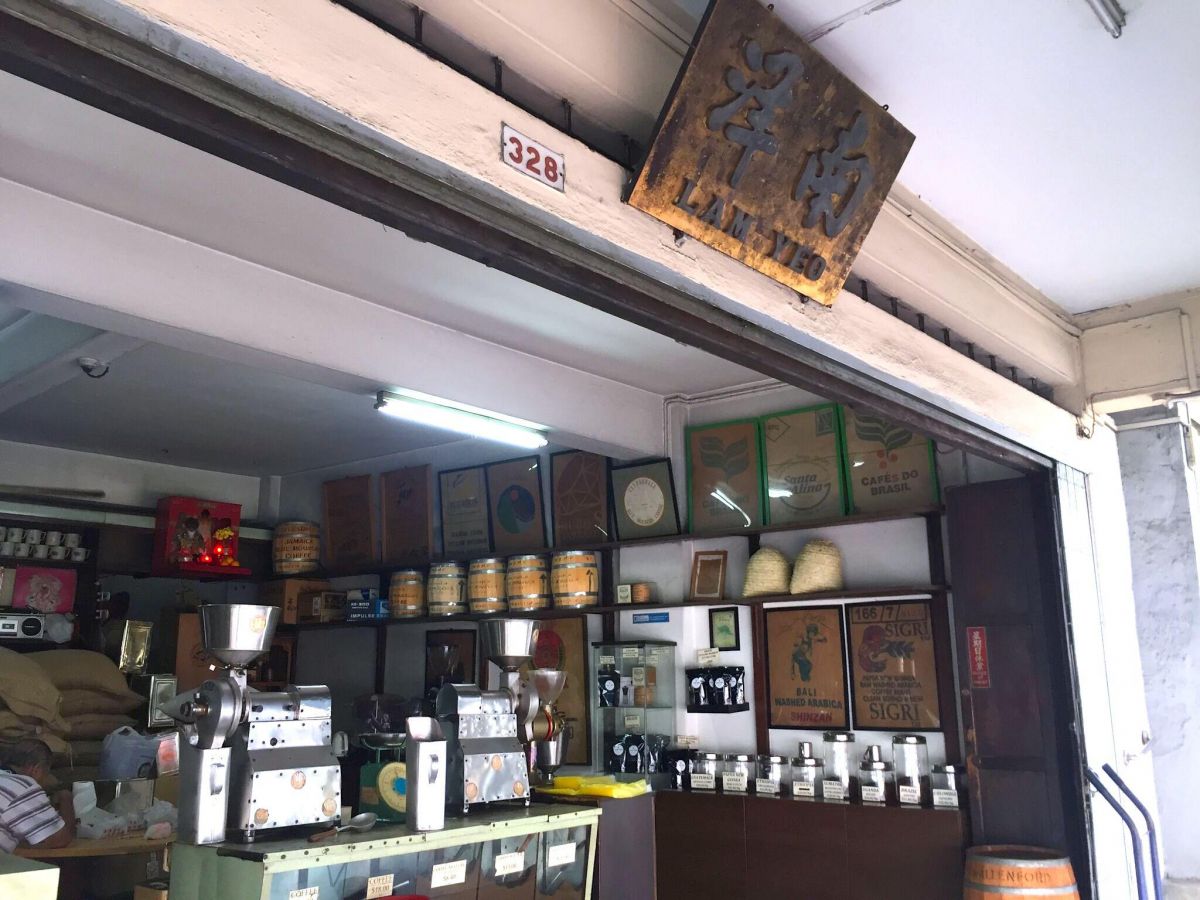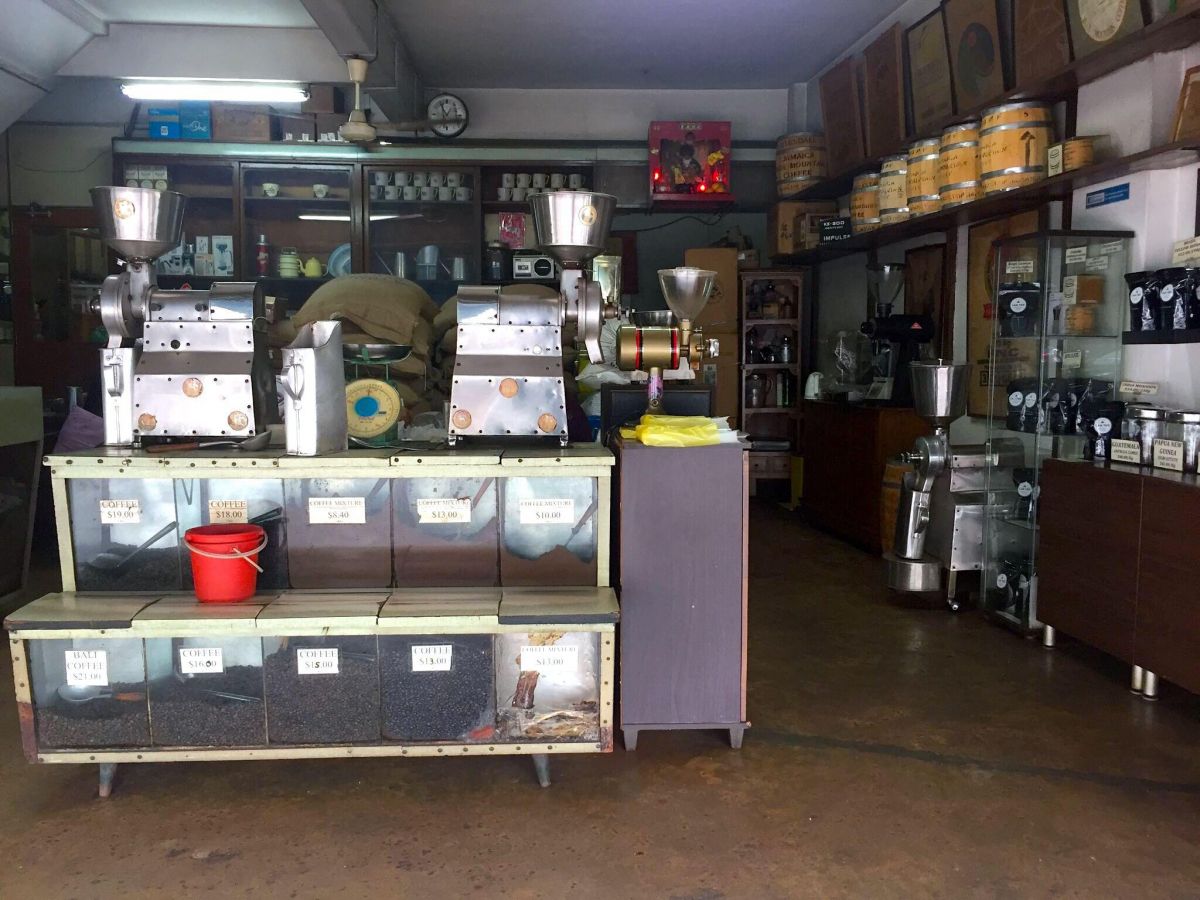 Lam Yeo Coffee Powder / onthegrid.city
Long before Starbucks and instant 3-in-1 blends were a city street staple, Balestier Road was renowned for its coffee powder shophouses. This one goes back to the 1960s and still serves up customers a traditionally brewed coffee known as 'kopi' that can be sweetened with condensed milk. It is one of the last remaining family-run coffee businesses which has survived Singapore's ever-changing landscape and now offers gourmet blends from countries like Brazil, Ethiopia and Colombia, catering to different tastes and generation of coffee lovers.
Loy Kee Chicken Rice / Facebook @ LoyKeeBestChickenRice 
Nearly 70 years of serving up traditional Hainanese style chicken rice makes Loy Kee one of the best places to get this Balestier favourite during your visit. Delicious, its steamed chicken and rice is served with a chicken broth and a garlic chilli sauce to enhance its savoury flavours, adding the extra oomph. Till today, Loy Kee Chicken Rice remains the locals' favourite go-to for authentic chicken rice.
Boon Tong Kee Chicken Rice / Facebook @boontongkeesg
Perhaps the road's other best-known address to enjoy some famous Cantonese chicken rice, Boon Tong Kee serves up tender sesame and soy-soaked chicken with lime and chilli sauce that is mouth-wateringly delicious. While you're there we'd strongly recommend some of their finger-licking good crispy deep-fried chicken.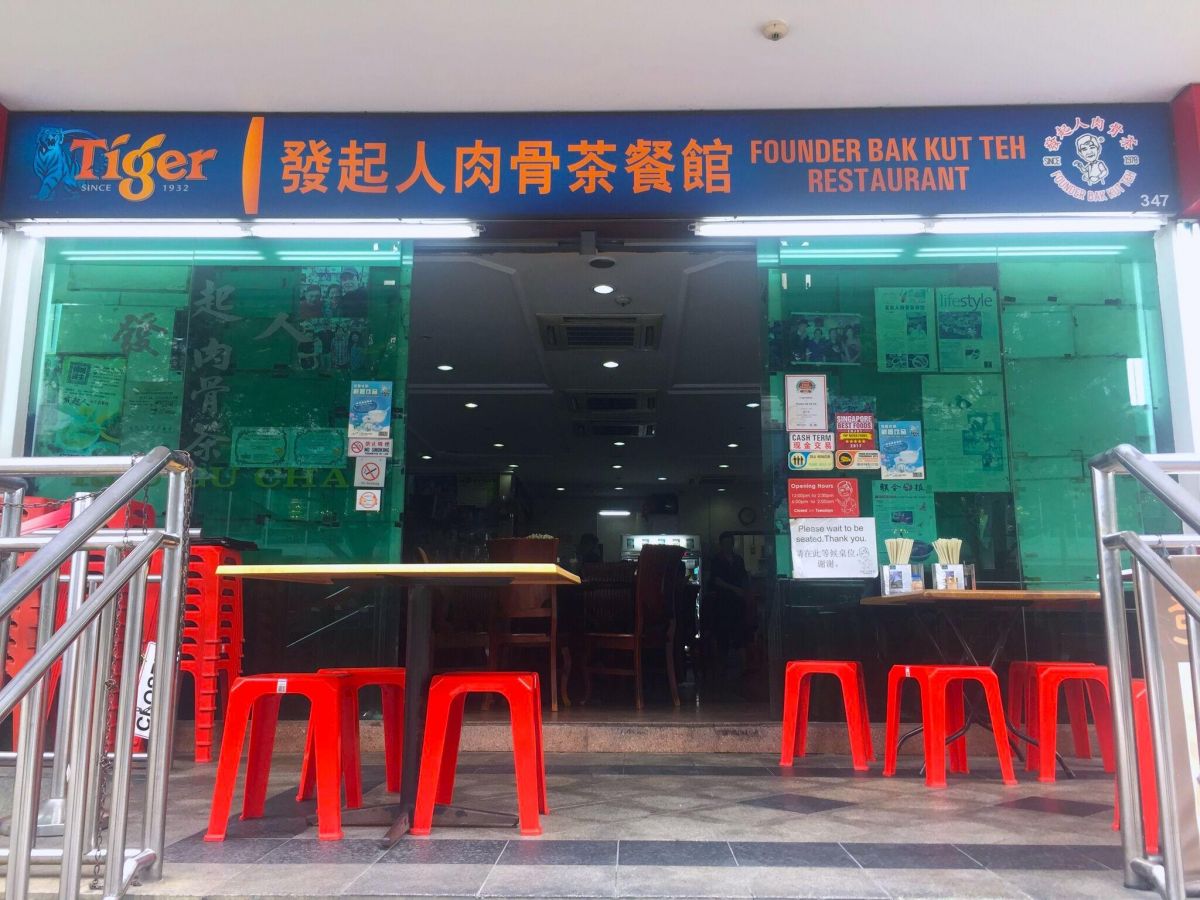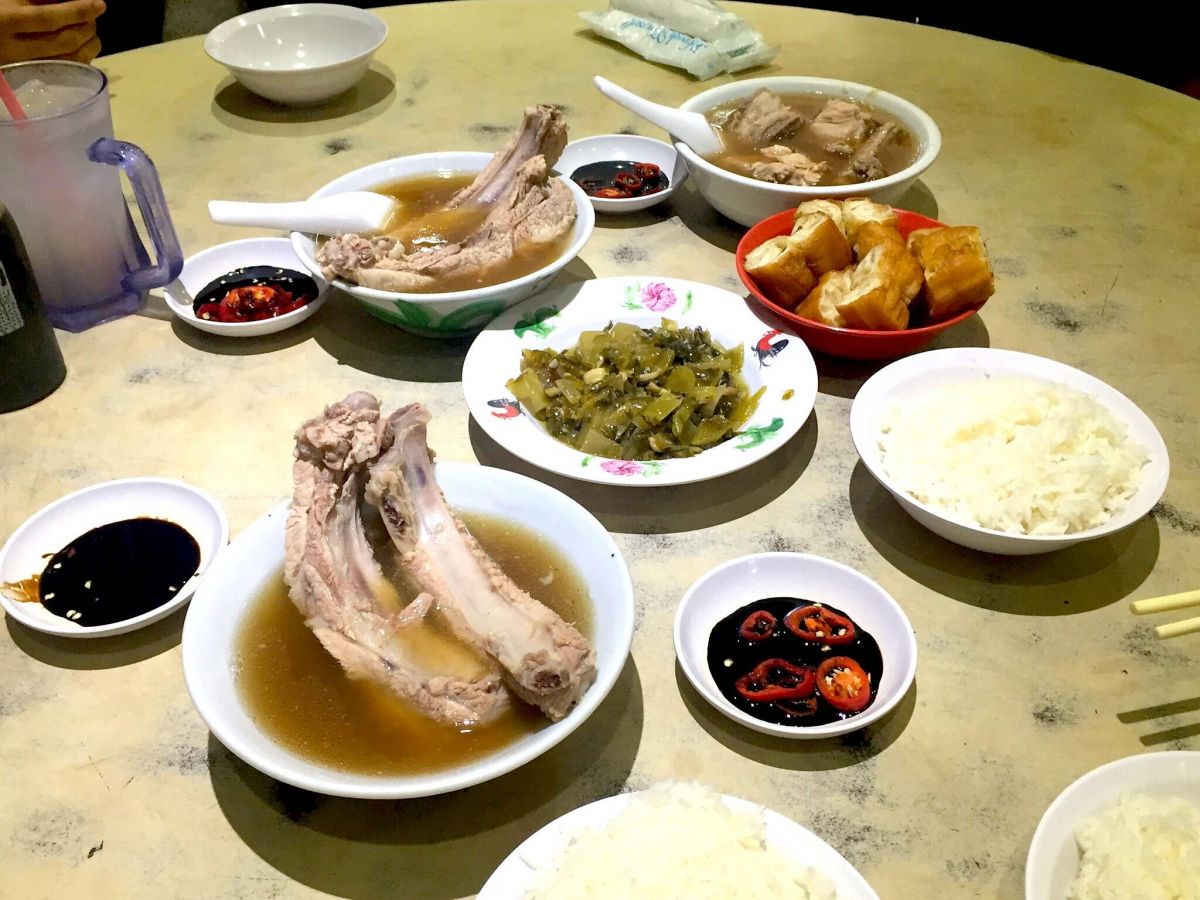 Founder Bak Kut Teh / onthegrid.city
Since 1975, Founder Bak Kut Teh has been an institution for Bak Kut Teh or 'pork ribs tea', one of Singapore's most iconic food. Stewed and spiced pork ribs in a peppery broth are served with rice, veg and deep-fried dough fritters for a delicious sit-in or takeaway dinner.
Other Bak Kut Teh stores along the road include Kai Juan Bak Kut Teh that has been around for more than 50 years, Balestier Bak Kut Teh and 333 Bak Kut Teh.
Balestier Market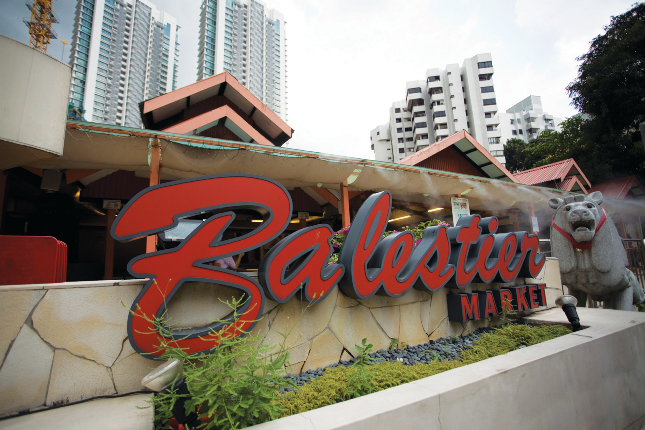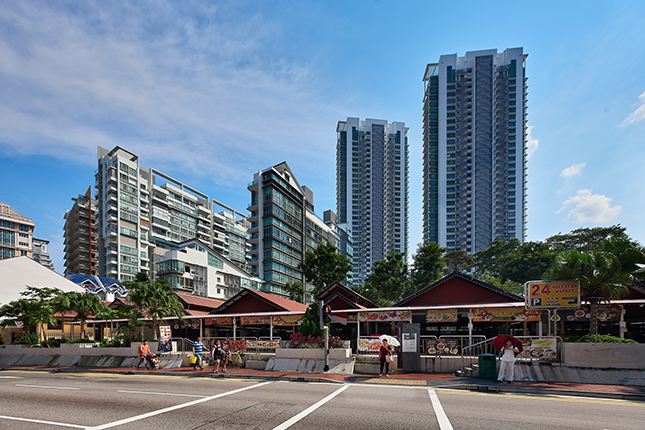 Balestier Market / roots.gov.sg
This 1920s market is the last surviving rural market in Singapore, previously known as Balestier Road Market, or Or Kio Pa Sat (Black Bridge Market in Hokkien) as referred to by the locals. While it has sadly lost much of its original market charm, it is home to a very popular food court with an excellent selection of street-food favourites such as chicken rice and satay.
Whampoa Makan Place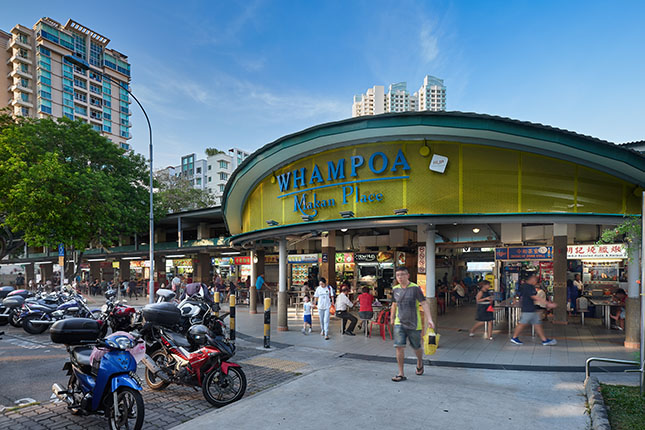 Whampoa Market / roots.gov.sg
Occupying the location of the now-defunct Rayan Market opened in 1952, Whampoa Makan Place, also referred to as Whampoa Market is a popular wet market and food centre. It houses some of the most famous local hawker stalls, including  545 Whampoa Prawn Noodles, Balestier Road Hoover Rojak, Tanglin Halt A1 Carrot Cake, Chee Kueh and more.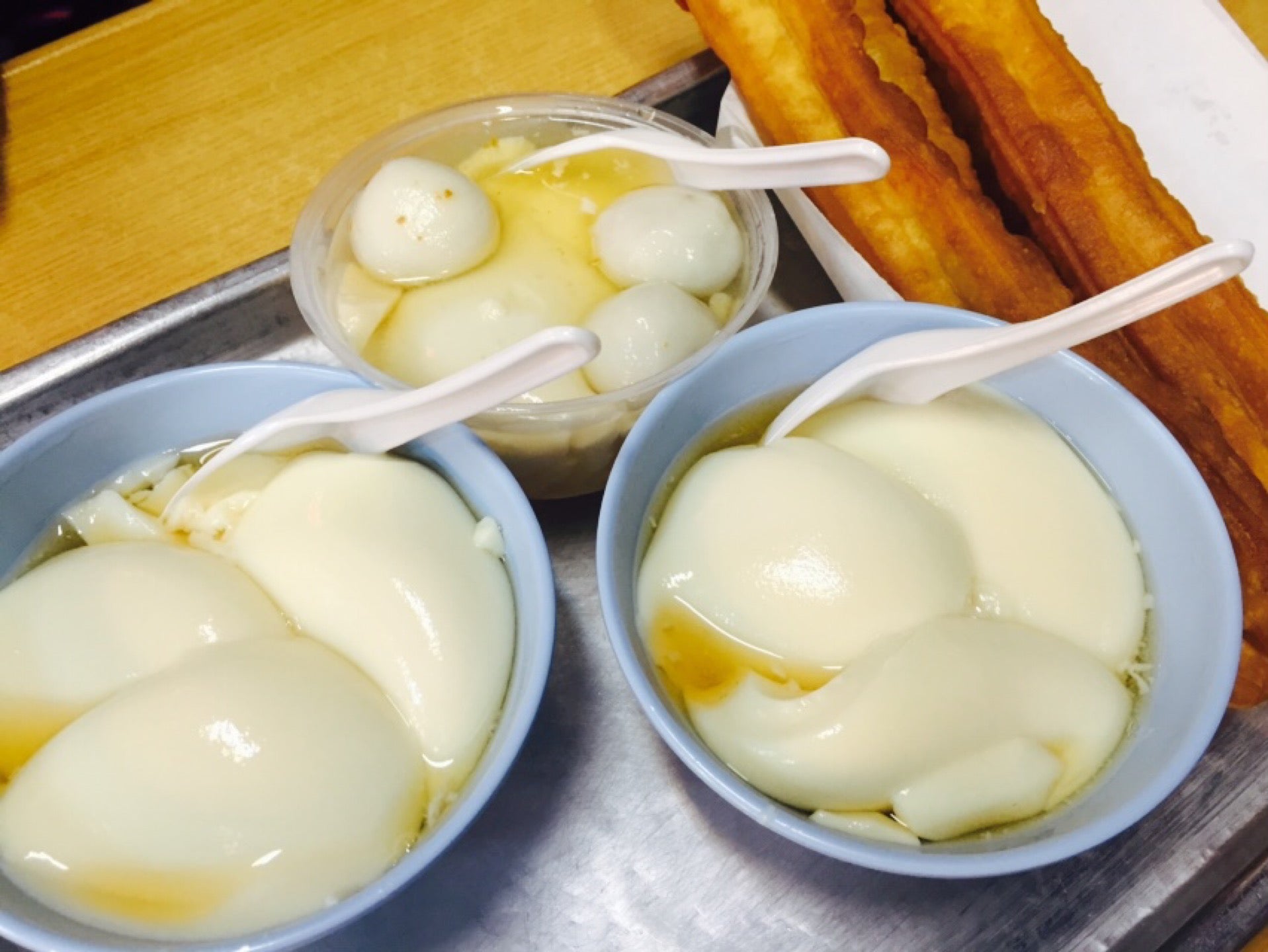 Rochor Beancurd House / Foursquare, Shanice
One of Singapore's original soya beancurd sellers, Rochor Beancurd House is the place to go.  Hot or cold, this deceptively simple-looking sweet treat flavoured with only sugar syrup, known as Tau Huay is the perfect way to start the day or for a late-night supper fare.  
Other Beancurd shops around the vicinity include Whampoa Soya Bean & Grass Jelly located at Whampoa Market & Food Centre.
Sing Hon Loong Baker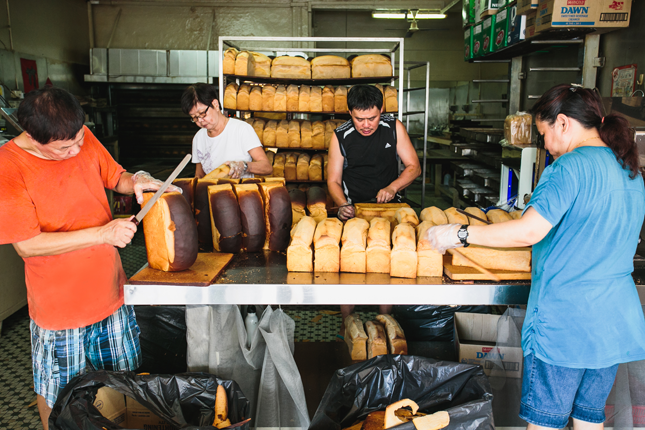 Sing Hon Loong Bakery / roots.gov.sg
With over 50 years of experience producing traditional brown bread, this 24-hour bakery is one of the few bakeries in Singapore that still uses traditional baking methods and antiquated ovens that requires a great deal of manual work. Light and fluffy, the soft, cottony texture of the traditional bread, usually served with a generous serving of kaya, butter or peanut butter are beloved by Singaporeans all over the island.
Check out Sweetlands Bread & Bakery, another old-fashioned bakery selling traditional loaves of bread.  
Loong Fatt Eating House and Confectionery
Loong Fatt / FB @LoongFatt639
A traditional Chinese bakery that is synonymous with tau sar piah, a sweet (or salty) flaky Teochew pastry filled with mung bean paste. Its history dates back to 1948, being the first place on the road to sell tau sar piah and remains a crowd-favourite with a mass following till today. Loong Fatt was also the only Singaporean shop to be featured on CNN Travel+Leisure's April 2012 issue centred on the Best Desserts Around the World.
Traditionally you could only choose between sweet or salty (which Loong Fatt only offers), but modern menus are filled with flavours like durian and pineapple. You can also head to the House of Tau Sar at 529 Balestier Road to compare for yourself.
Check out Balestier Insider and uncover the precinct's history, or grab a physical copy from our concierge before heading out to explore the area!
Where to Stay on Balestier Road
Ramada by Wyndham Singapore at Zhongshan Park
Priding itself on its hotel-by-the-park experience, Ramada Singapore is perfectly positioned to enjoy the best of Balestier. Award-winning, affordable and with a great selection of contemporary amenities, you'll feel welcome and at home from the moment you arrive.

Complete your Balestier Heritage Experience with a staycation! ☀️
Check out our Date-cation Package from $128++ and enjoy $20 dining credits, exclusive dining discounts, complimentary parking and more.
Days by Wyndham Singapore at Zhongshan Park
A sister property of Ramada Singapore, Days Hotel Singapore is an award-winning choice accommodation for budget-conscious travellers, providing quality comfort and convenience at the best value. Located within the central district of Novena, known as the city's food haven, the eclectic array of dining options will leave you spoilt for choice.